Acapulco Rock (2000)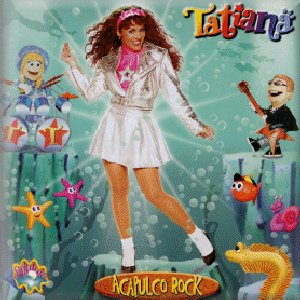 This album marked a change in style to '50s-'60s rock-'n'-roll, while continuing to aim at the children's audience she has specialized in for the last few years. The new rock style was reflected in a redesign of the sets and costumes for her TV show at the same time.
Label / Cat #: Polydor 549 560-2 (23)
Release Date: Dec. 12, 2000 (Mexico); Apr. 17, 2001 (USA)
Availability: Carried by Amazon.com in the USA, and Mixup and Submarino in Mexico.
Reviews:
Another artist's rendition of some of these songs can be heard online here.
This page was first created 21 Dec 2000, and last modified 21 Sep 2013.
This page is not an official site of Tatiana or her management, producers, TV networks, or record companies; it is an independent fan site. Tatiana's official site is at www.tatiana.tv. All contents copyrighted by their respective creators or contributors or © 2000-2018 Daniel R. Tobias. The "Tatiana" logo and other trademarks used in this site are property of their respective owners.