"Things Happen When They Should!"
T

a

t

i

a

n

a

, From Pop Princess to La Reina
(An account based upon
Tatiana's

own words and reflections.)
by Godspeede
"Things happen when they should", it is a favorite saying of Tatiana's and an apt summary of her life and career. Although blessed in so many ways, she has also had her share of challenges to surmount. Perhaps most daunting of all were those that came with her remarkable career transition from being a teen pop star to becoming an international institution as La Reina de Los Niños. Along the way, she had to overcome the supposed wisdom of the record companies, the nay sayers of the press, the financial dislocation of an entire economy, and her own uncertainty to have the courage to find her path -- one that was neither obvious nor predictable, but one that in the end evoked her remarkable talents and charisma.
At the heart of Tatiana's success is strength of character. Born into an exceptional family with a highly educated father José Ramón Palacios Ortega, and a beautiful, talented mother, Diana Perla Chapa de Palacios, she also derived confidence from being the elder and maternal sister of a dearly loved little brother, Juan Ramon. Virtually from birth, then, things seemed to conspire to make her exceptional, but all was not perfect. At an early age, for instance, she learned that her metabolism was unusually slow, and she became heavy from eating no more than a normal child. Thus at eight years, Tatiana had her first experience with the need to seize control of her own life. With her parents' help, she overcame her problem through exercise and a strict diet that excludes most fats, starches, and sugars. The extraordinary self-disciplined learned here would continue to serve her always. Indeed, among her self-confessed faults is her own perfectionism and unwillingness to accept from herself anything less than her best.
And already life was offering opportunities. A talented gymnast, Tatiana began preparing for a possible trip to the Olympics of 1984. However, she was also musically inclined. Since she was four, she had been taking lessons variously in piano, flute, violin, as well as dance and she loved to sing. Moreover, her mother was a television personality and star in her own right, who was able to offer advice and training for a career as a performer. Now things began to move forward; while attending her brother's audition for a children's' version of the play Vaselina [Grease], she attracted the attention of the show's producer who just happened to be casting another musical production for teenagers, Kuman (1984). Not only was she invited to audition, but also she got a leading role. Her audiences and the critics alike applauded her 175 performances on the stage and those in the soundtrack album that followed. [Listen to RealAudio sample]
Next Capitol Records came knocking and she accepted (at the age of fifteen) an offer for a recording contract. The four years that followed were marked by unrelieved success. Hit followed hit, from Chicas de Hoy to Chicos Chicos. She made movies, and became a regular performer on national television. Cute and sexy, she also became a kind of symbol of wholesomeness analogous in American culture in the early 1960s to Annette Funicello. It was an image that shone naturally from the personality and the outlook of a young girl who relied upon her protective mother for management and who spoke and sang out against drugs and teen pregnancy while advocating responsible parenthood and ecology. Her audience reflected this. Not only were young men understandably enamored, but young girls looked to her as a role model, and even families with small children counted themselves among her many fans. But things were changing - for Tatiana was becoming a grown woman.
It is a cliché that in show business child and teen stars almost never successfully make the transition to adult popularity. The pattern is almost inevitably towards public oblivion with adulthood. Unlike most, it was true, Tatiana had been able to grow artistically as each of her albums became more cosmopolitan and her talents more polished. Nonetheless, Capitol Records considered her success just that of a teen prodigy. Consequently when she reached the age of nineteen the company began forcefully urging her to adopt a more "adult" image by changing her lyrics, her outfits, to "be more sexy, etc." Accordingly on her sixth album, Vientos En Libertad (1990), she tackled a much more eclectic range of music, while appearing tastefully alluring on the cover and insert. However, despite a well-orchestrated publicity campaign to introduce the "new" Tatiana and the fact that the title song was a hit, the album was less successful than was hoped. This was blamed by some upon her marriage in 1990, to Andres Puentes, known professionally as Andres Bridges, who was now managing her. She explains: "In Mexico the press thinks that if you say you are married or have a boyfriend, your fans are going to leave you." Begging to disagree Tatiana maintains "that the fans are with you because of how you sing, dress, because of your talent, not because they want to marry you!" Moreover, she knew that her fan base was broad and included even children, and felt that the real reasons for the record's performance were her fans uncertainty about her new image and Capitol's lackluster promotion. Moreover, she was becoming frustrated at having her musical directors repeatedly changed and by a growing general ambience of nonsupport. Never one to wait passively in the face of adversity, Tatiana moved to Sony Records, which seemed to be offering her the world.
At first all went well. Leyes Del Corazon (1992) went to first place in the charts. Sony even had her rerecord two of the songs in English for possible release in the United States. Her sexy image was updated still further on the cover, and the songs were ever more adult in content and arrangement. But once again events intervened to spoil things as she found herself abandoned by her musical director who changed jobs. Her next album Un Alma Desnuda (1994) reflected its unfocused conception and production. Moreover, it presented an image of a new Tatiana, one her fans barely recognized.
While she had been always sexy, it was successively the allure of the girl next door, a college cheerleader, or a beautiful sophisticated young woman. Now she appeared as something else entirely on a cover that featured her topless with tight unzipped shorts. Even more incongruously, she was now pregnant with her daughter Cassandra: "Imagine the contrast to the media with the cover so sexy and the press conference [to promote the album] a 'baby shower!'", she now muses. However, despite her hard work publicizing, the album was a disappointment sales wise, and her relations with Sony deteriorated.
Tatiana left at her own volition and at the age of 25, for the first time in ten years, she was without a record contract. "I couldn't complain", she reflects, "I had 15 gold records, four platinum, one diamond, and ten years of career." She could have easily retired to raise her daughter and to enjoy a quiet but enriching family life. But who, reasonably, can retire in their mid-20s, especially someone as active and committed as Tatiana? She remained ambitious, but it was not clear where she fitted. She certainly did not wish to go back to the false image trap of her last years with Sony! "We began to see that all the female singers were showing their bodies more than their voices, and I didn't want to do that," she explains, besides "when I became sexy, nobody, not even me, believed it." She did feel that "at the same time [as] the media wanted me to grow up, they [also] wanted me to be the same cheerful, dancing, fresh, pop singer, and I wanted that!" Given the trends in the recording industry, the question was "how?" But things began to happen -- almost with a life of their own.
For years her grandmother had been urging her to record a children's album. Now she had the time and, moreover, such a project would help clear up the confused public image that came with her last releases. Just a week before the birth of her daughter, she did a song for a children's cassette for Disney with various other artists, and it sold reasonably well. This was encouragement to create a full Tatiana collection of children's songs. The idea was to do this, and also keep recording "adult" music. "We didn't know what was to come!" she admits today. She sat down and came up with the early stages of the entire Tatiana concept, the costumes, the image, "everything". Her most brilliant idea would prove to be her decision to update and modernize traditional Mexican juvenile tunes.
At first no one was interested. When the idea was first presented to the record industry, it was met with laughter and the explanation that "there was no market for children's music in Mexico ... that was for clowns and circuses." (It was a situation reminiscent of the British recording companies turning down the Beatles in 1962 because 'guitar groups are on their way out'!) Finally, Paramusica-fantil, a small company that distributed Disney songs indicated their willingness to take a chance. But they wanted to change Tatiana's planned repertoire. The music director was from Europe, and had never heard of these melodies. Instead, he wanted to have special songs written. Tatiana, who can be very strong willed, had confidence in her original idea and held her ground. At last after arduous negotiations, it was agreed to record her song choices. Then suddenly, everything threatened to fall apart!
"Devaluation", a word that no Mexican alive in the mid-1990s will ever forget! Overnight, the peso went from nine to three to a dollar. It was devastating to business, and no one wanted to undertake a new enterprise, least of all such an unproven idea, until things settled down. Paramusica-fantil attempted to back out of their agreement. Tatiana again fought hard, pointing out among other things "there were 80 million people in Mexico . . . [who] had kids they wanted entertained" The decision was rescinded.
Now finally the album could be made. It was decided to use the talents of Pepe Luis Soto, who was originally from Puerto Rico, who was a member of the Miami Sound Machine, and who lived in the American city of the same name. Tatiana felt a "good connection" with Don Soto at their first meeting and she flew to Miami to record.
She was pleased with her new album that was unprecedented with its marriage of pop sensibilities with traditional children's melodies (one of which was the source of the recording's name, Brinca!(1995)). Now came the promotion. Paramusica-fantil had never had a live artist, just cartoon soundtracks and the like, and had no experience with advertising one. Thus it fell to Tatiana to publicize her new project: 'I started to appear in some TV shows (the really important ones still didn't believe in the concept)', but the masterstroke was the novel idea of presenting the new act and music at the Mexico City Hard Rock Café, which began running television spots announcing her upcoming appearance. For the first time in full costume, she performed in just a single set in the early afternoons of the first weekend (before the rock bands played). By the second weekend, another show had to be added both days to appease the demand from the massive crowds outside. Parents who had grown up with Tatiana now brought their children, who often insisted upon coming back as many as seven times. She loved it, giving autographs, posing for pictures, and enjoying the contact with her fans. Meanwhile, Brinca!, not yet in the stores, was being sold exclusively in these concerts, and it was selling out! Things were going so well that she moved to the much larger Teatro Hidalgo, and undertook the exhausting schedule of two shows per day from Thursday through Sunday. It was while she was making these appearances that the album was at last released, and though its songs were not being played on the radio (there were no stations specializing in "children's music"), its success was overwhelming! In a matter of weeks the album sold over a million copies (a rarity in the Mexican market) and kept selling, something no Tatiana project had done since 1986, and the massively popular Chicas de Hoy LP!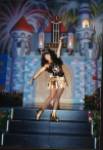 Within months, Tatiana had become a phenomenon. Her shows became bigger and bigger. Her next album, Brinca II sold even better. She made videos, and soon began appearing in ten-minute capsules on television, capsules that were expanded into her own program, El Espacio de Tatiana. It was not long before there were a full line of Tatiana cosmetics, children's clothing, and accessories. Even sing along versions of Brinca and Brinca II, with the lead vocals removed sold well.The "Tatimania" spread throughout Latin America, and she became an international star attracting even the attention of a body of strange but adoring gringos in the frozen North. Throughout it all she has strived to make her music and her performances ever better, an effort that has been rewarded with twenty-one gold records, six platinum, and four diamond discs, not to mention the 250,000 plus videos sold. She has been labeled La Reina de los Niños, a title others have held but which no other has so richly deserved. For an entire generation of children she has become an icon to be never entirely forgotten, an indelible part of the patterns of their lives.
But the story of Tatiana is not just about units sold or audience attendance; there are many artists who are popular. It is most obviously a chronicle of faith and perseverance against the odds. Making her rise even more special, however, is its affirmation of her as a true people's star. Against all the collective wisdom of the music industry and seemingly endless obstacles, in the end it was the people who responded and still respond to her talent and charisma. No writer could have made her up. No corporate promotion could create the affection she invokes in adults and those most honest of people -- children. Tatiana, and what she does, speaks to something very positive, and as this account testifies, she is indeed here for us because in the end things seem to happen when they should!
---
© 2001 by Richard A. Morton
This page was first created 15 Jul 2001, and last modified 10 Sep 2006.
This page is not an official site of Tatiana or her management, producers, TV networks, or record companies; it is an independent fan site. Tatiana's official site is at www.tatiana.tv. All contents copyrighted by their respective creators or contributors or © 2000-2018 Daniel R. Tobias. The "Tatiana" logo and other trademarks used in this site are property of their respective owners.