La Mas Completa Coleccion (2005)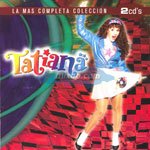 This is a two-CD collection of Tatiana's children's songs.
Availability:
Track List:
CD 1
GOTITA DE AMOR
SUPERFANTÁSTICO
CHICAS DE HOY
SUSANITA TIENE UN RATÓN
PAPO EL ZAPATO
EL MÉDICO BRUJO
LA YENKA
LA GALLINA TURULECA
LA RISA DE LAS VOCALES
ES DE CHOCOLATE
LA BANDA DOMINGUERA
EN UN BOSQUE DE LA CHINA
VIVA LA GENTE
MÉXICO
HOY TENGO QUE DECIRTE PAPÁ
MAMÁ
ORACIÓN
CD 2
BAILA CONMIGO (EL JUEGO DE SIMÓN)
O SEAS FLOJO
VEO, VEO
UN PATO
LA FIESTA
ACAPULCO ROCK
LA FAVORITA DEL PROFESOR
DESPEINADA
POPOTITOS
LA PLAGA
ROCK DEL RELOJ
NAVIDAD ROCK (JINGLE BELLS ROCK)
FELIZ NAVIDAD
FROSTY THE SNOWMAN
CAMPANAS NAVIDEÑAS (JINGLE BELLS)
LA NAVIDAD LLEGÓ (JOY TO THE WORLD)
NOCHE DE PAZ (SILETN NIGHT)
This page was first created 03 Apr 2006, and last modified 09 Sep 2013.
This page is not an official site of Tatiana or her management, producers, TV networks, or record companies; it is an independent fan site. Tatiana's official site is at www.tatiana.tv. All contents copyrighted by their respective creators or contributors or © 2000-2018 Daniel R. Tobias. The "Tatiana" logo and other trademarks used in this site are property of their respective owners.