Super Disco del Año (1987)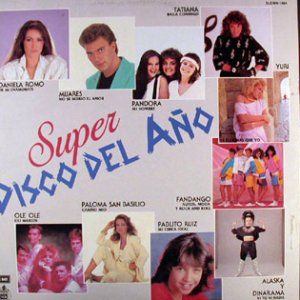 This multi-artist collection of 10 songs included "Baila Conmigo" by Tatiana.
Label / Cat #: EMI SLEMN-1484
Track List:
DANIELA ROMO: De Mi Enamorate
FANDANGO: Autos, Moda Y Rock And Roll
MIJARES: No Se Murio El Amor
PANDORA: Mi Hombre
YURI: Es Ella Mas Que Yo
ALASKA Y DINARAMA: Ni Tu Ni Nadie
TATIANA: Baila Conmigo [Listen]
PALOMA SAN BASILIO: Carino Mia
PABLITO RUIZ: Mi Chica Ideal
OLE OLE: Lile Marlen
This page was first created 12 Jan 2003, and last modified 05 Feb 2005.
This page is not an official site of Tatiana or her management, producers, TV networks, or record companies; it is an independent fan site. Tatiana's official site is at www.tatiana.tv. All contents copyrighted by their respective creators or contributors or © 2000-2018 Daniel R. Tobias. The "Tatiana" logo and other trademarks used in this site are property of their respective owners.