Photos Taken by Tatiana
Tatiana has always been a photography buff, something she got from her father (see his site on this subject). Here are some pictures she has taken.
Pottery at a roadside stand.

I don't know if she's got a tall tale to tell about this, but she managed to snap this picture of a whale's tail in Puerto Vallarta, Mexico, in December 2000.

A sunset over the mountains.

A replica of one of the three ships of Christopher Columbus in Puerto Vallarta.

Sunset at marina in Puerto Vallarta.

One of the most important volcanos in Mexico, "Popocatepetl", (mountain that exhales) which started to erupt a year ago, after 500 years of inaction.

Volcano called "Iztlazihuatl" (woman sleeping) in Aztec. This one is not erupting, it's just a cloud.

Her best friend since childhood, Claudia (who appears in pictures in the family section), taken in Puerto Vallerta.

Another picture of Claudia, on a friend's ranch.

Picture of her brother with a Puerto Vallarta sunset in the background.

Another Puerto Vallarta sunset.

Tatiana's niece, Raquel, hiding among a pile of stuffed animals like E.T. did in the movie.

I said in the index page that pictures here are obviously not of her, since she took them, but I was wrong; here, she managed to snap a couple of pictures of herself during a night of insomnia, using a Nikon N-80 that was her parents' Christmas gift to her.

Taken through an airplane window.

Her daughter Cassandra, on a mermaid sculpture.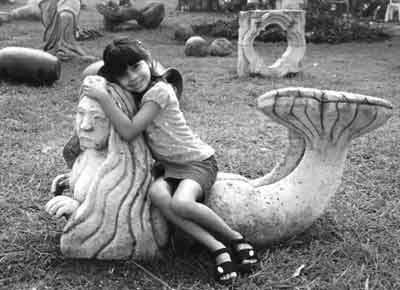 Her nephew Mike.

Her nephew is nicknamed Pelon.

Cassandra with some of her friends.

River stone picture she took herself.

"El Cerro de la Silla" (The Saddle Hill), a symbol of Monterrey. Taken by Tatiana.

Click on this picture for a bigger version.

Bridge in Monterrey.

Taken by Tatiana: Mexico City from the plane.

This page was first created 06 Mar 2001, and last modified 25 May 2008.
This page is not an official site of Tatiana or her management, producers, TV networks, or record companies; it is an independent fan site. Tatiana's official site is at www.tatiana.tv. All contents copyrighted by their respective creators or contributors or © 2000-2018 Daniel R. Tobias. The "Tatiana" logo and other trademarks used in this site are property of their respective owners.