Leyes del Corazón (1992)
Continuing with her more "adult" albums, this one included two bonus tracks in English on the CD, which were the original English versions of songs she sang in Spanish on the regular tracks: "I Can't Live Without You" is the English version of "No Vivire Sin Ti", and "Dancing For The Light" is the English version of "Bailaremos Por La Luz". Two other tracks, "Mi Vida En Tus Manos" and "Cuando Estoy Junto a Ti", have Tatiana credited with doing the translation into Spanish. Most tracks on this album are translated; only "Donde Quedo Tu Cariño", "Cuando La Amor Termina", "Nadie Como Tu", and "No Me Provoques" have no translator listed and are apparently original Spanish songs.
There has been a newer re-release, with the cover below: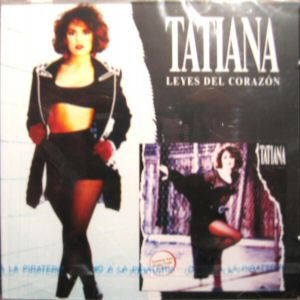 There was also a picture-disc version:
Label / Cat #: Sony, CD-80815
Availability:
Review: Emotional ballads and dance pop: Tatiana's most pleasantly listenable adult album (Epinions, dtobias)
This page was first created 27 Sep 2000, and last modified 21 Sep 2013.
This page is not an official site of Tatiana or her management, producers, TV networks, or record companies; it is an independent fan site. Tatiana's official site is at www.tatiana.tv. All contents copyrighted by their respective creators or contributors or © 2000-2018 Daniel R. Tobias. The "Tatiana" logo and other trademarks used in this site are property of their respective owners.